22 Useful Facebook Advertising Statistics [Updated 2023]
Ever since Facebook saw the light of day back in 2004, it's been a part of our everyday lives. Without a doubt, it is the most impactful social media network out there.
What's more:
The user database increases with each passing day, and so does Facebook's orientation towards business and advertising. With that in mind, Facebook advertising is a cost-effective solution for all digital marketing purposes.
Staying up-to-date with the latest Facebook advertising statistics is of paramount importance for any marketer who wants to succeed in today's crowded digital world.
The thing is:
Not only is Facebook advertising increasingly affordable and extremely effective, but it enables you to reach a wider audience to suit your company's interests.
And if you are a marketer, you probably want to target the right audience that will bring you quality leads, right? Well, you're in the right place, as we have figures and statistics that will rock your senses and help you achieve your goals.
Read on and find out all the relevant data that will help you and your digital marketing goals.
Fascinating Facebook Usage Statistics (Editor's Choice)
69% of US adults

have a Facebook account.

74%

of all US adults using Facebook

open the platform at least once a day.
43% of Americans

get their news from Facebook.

75% of all women

and

63% of all men

use Facebook

Facebook users have

created and published over 2.5 trillion posts

to date.

The

average engagement rate

for Facebook posts is

3.6%

.

Over 60 million business pages have been created

on Facebook.

More than

6 million businesses use Facebook Ads

to reach their target audience.

67% of all marketers

say Facebook is their most important social media asset.
General Facebook Facts & Statistics
The mind-blowing Facebook user statistics outlined above show the importance of Facebook in people's lives.
Now, we can now delve a little deeper. Let's first take a look at some alluring facts before moving on to some more interesting statistics.
1. Facebook is the third most visited website in the world.
(Ahrefs)
Facebook sits at third place for monthly traffic with reported numbers around 616 million. Youtube and Wikipedia occupy the first two spots with 1.7 billion and 1.2 billion monthly traffic, respectively.
This is not surprising really, as people spend most time on the internet watching videos or searching for information.
2. Reports indicate 2.45 billion
Facebook active users
, as of September 2019.
(Newsroom FB)
This is a staggering figure published by the official Facebook newsroom. As of September 2019, there were over 2.45 billion users who are active on their platform every month.
3. Facebook is the fourth most downloaded free app in Google Play Store.
(Sensor Tower)
By Q1 2019, Facebook had seen over 150 million downloads and installs via Google Play Store.
It is now the fourth most downloaded free app, closely behind TikTok, Facebook's very own Messenger app, and WhatsApp.
4. The
average Facebook user age
is 40.5.
(Statista)
The highest concentration of users are between 18 and 44 years old with 40.5 being the average age for a Facebook user.
However, the most active age group on Facebook are women between 18 and 24 years old and men between 25 and 34 years old.
5. Users aged 18 and over spend an average of 58 minutes on Facebook.
(Social Media Today)
In 2019, people over the age of 18 spent a total of 2 hours and 23 minutes on all social media platforms and messaging apps.
The average time spent on Facebook is 58 minutes, making this social network the most widely used one today.
And, on the topic of teenagers, the next stat will surprise you a bit:
6. 40.5% of teens under 18 use Facebook.
(eMarketer)
With the ever-growing social media networks like Instagram, Snapchat or TikTok, teens are more likely to sway away from Facebook.
Not only that: 
It is also forecast that this number will likely decrease to 37% within the next 4 years.
In contrast, the number for users aged 55 or older is holding steady and will also likely see an increase by up to 7%.
Got your attention? Good! Then buckle up for some staggering figures!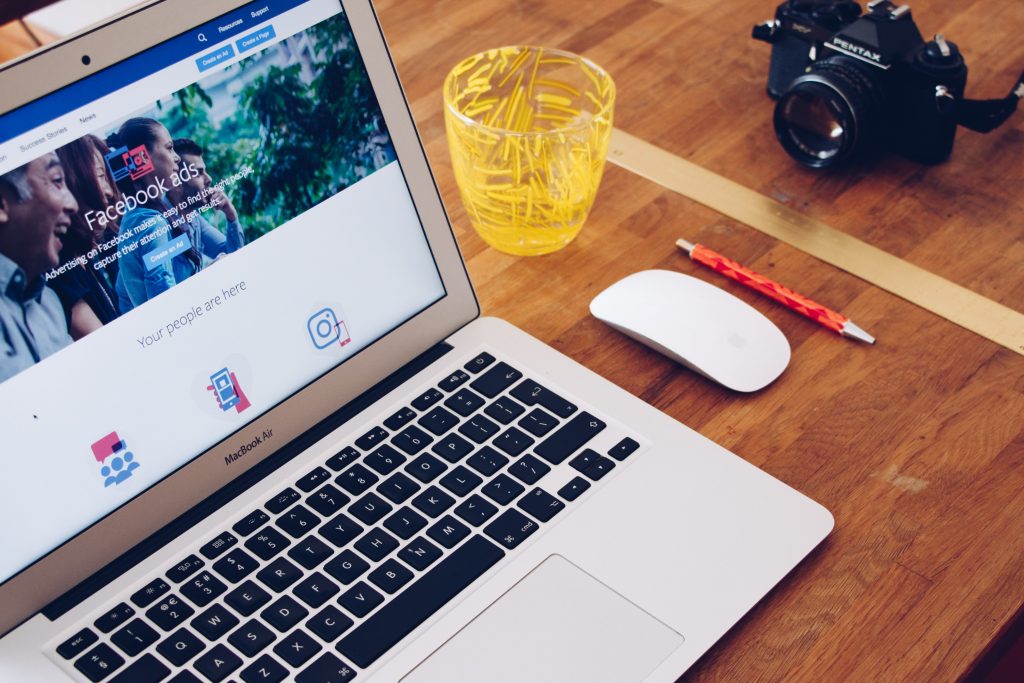 Facebook Ad Statistics
Now that you have learned the importance of Facebook, it's time to take a look at some intriguing statistics.
An awareness of how the Facebook algorithm works can aid you in your marketing efforts.
7. 74% of people who earn more than $75.000 per year use Facebook.
(Pew Research)
Now that's interesting, isn't it? That's almost three-quarters of all high-income earners who use Facebook on a regular basis.
Interestingly, the same percentage of college graduates use this platform, with only YouTube being ahead.
Speaking of revenue, this will blow your mind:
8.
Facebook's advertising revenue
for 2019 is reported to be $17.4 billion.
(Adage)
It seems like the recent political turmoil that has surrounded the company hasn't reduced its profits.
In fact, this report notes an increase of 28% for advertising revenue compared to the year before.
This further proves our point that Facebook should be a marketer's first choice when it comes to online marketing.
9. Facebook has reported a staggering 93% of its revenue coming from mobile advertising.
(PPC Land)
93%! Yes, you read that right.
Daily user activity increases by approximately 8% each year. Coincidentally, so does Facebook's mobile advertising revenue.
Nowadays, almost every individual owns a smartphone, and they use it regularly on a daily basis.
We've discussed some important mobile marketing statistics that every marketer can find useful. And the results show an astonishingly high number of people check their emails first thing in the morning.
10. The number of small businesses using Facebook and its related products is 90 million.
(Facebook)
Two-thirds of the total number of small businesses that use Facebook have a Facebook business page. While not everyone has created a business page, many are using other free tools like Facebook groups or Messenger to grow their businesses.
These are crucial Facebook advertising statistics to know, especially if you are a digital marketing specialist.
Why is that, you may wonder?
Well, knowing that many small businesses use Facebook groups and Messenger can help you create specific campaigns that will target exactly that audience.
It's a win-win for everyone involved! They use the products most suited to them and you get to increase your leads and sales rates.
11. 86.8% of all United States marketers will continue to use Facebook marketing in 2020.
(eMarketer)
Speaking of digital marketing, the latest Facebook advertising statistics of 2019 indicate that US-based marketers will continue to use Facebook marketing in 2020.
Key takeaway:
Facebook remains the most important and most popular social media network among US digital marketers.
12. 97% of B2C marketers and 91% of B2B marketers are primarily focused on Facebook.
(Social Media Examiner)
Nearly all business-to-consumer marketers use Facebook as their top marketing channel.
As for business-to-business marketers and Facebook, the figure stands at 91%, with LinkedIn a close second.
These are intriguing Facebook marketing stats, to say the least, as publishers tend to rely more on Facebook. And with good reason too!
Facebook has been the safest social media channel for distributing content over the years.
13. The average Cost-Per-Click (CPC) and Cost-Per-Action (CPA) across all industries are $1.72 per click and $18.68 per conversion.
(Word Stream)
While CPC and CPA may vary for different industries, generally most businesses aim for a Facebook advertising ROI of 5:1.
ROI is the amount of profit you will generate compared to the price of the service or product you are selling. A 20% Cost-Per-Click is a quality ROI and a highly sustainable figure.
This means that for every one dollar you spend on advertising, you should generate a profit of five dollars.
Facebook Publishing Posts Statistics
Due to changes in the algorithm, Facebook's organic reach has seen a heavy decrease in the past couple of years. Because of this, many business pages have experienced lower engagement rates than before.
14. Prior the algorithm changes, the newsfeed used to load 250 posts after each person logged in.
(Facebook)
All of these 250 posts were counted as organic reach even if the person didn't actually see them. But now, after the changes, these 250 posts are being measured only after a person scrolls through and sees them.
This change is giving marketers a headache, as they need to change their strategy and switch their focus to Facebook sponsored ads.
But that's not all:
15. Since 2017, brands have seen a decrease by up to 20% on organic reach and engagement.
(Social Media Today)
Furthermore, after Mark Zuckerberg announced the decrease of organic reach, there was a staggering 34% decline in organic reach.
For many marketers and Facebook page managers, this is not surprising at all. Reports indicate the organic reach on Facebook has been in decline since 2013.
16. By 2020, 66% of the total advertising budget will be allocated to advertising on Facebook.
(Salesforce)
To compensate for the lack of organic traffic growth on Facebook, brands have increased the overall spend on advertising.
Reports indicate that companies will spend up to two-thirds of the advertising budget on  Facebook ads. That is a third of the total budget marketers will have at their disposal.
16. On average, Facebook users click on about 11 ads per month.
(Hootsuite)
This means that people click on one ad every three days. Truth be told, these are not great numbers at all. But not every ad campaign requires a click in order to be effective, as marketers publish different types of ad campaigns relevant for their business.
If we break down these Facebook advertising stats by gender, we can see that women click on ads more times than men (14 per month compared to 10 per month).
17. Currently, an average Facebook post's organic reach is 5.5%.
(Hootsuite)
It's a massive challenge for marketers, as Facebook ad statistics reveal the organic reach has dropped by 2.2% in the last year. What this means is that organic posts will reach only 5.5% of the total followers of a Facebook page.
In order to make yourself more visible, you will need to use other tools like Messenger, groups, stories, or ads.
18. The average
Facebook advertising cost
for 2019 across all industries was $1.86 for CPC and $11.20 for CPM.
(Word Stream)
As a marketer, you need to be aware of these numbers. Such statistics can help you balance your advertising budget and avoid breaking the bank.
The cheapest industry to advertise for CPC is Apparel with just $0.45. On the other end, the most expensive one is the Finance & Insurance industry with a cost as high as $3.77 CPC on average.
Hold on, there's more:
Facebook Video Statistics
Having a look at the latest Facebook advertising statistics, it is safe to say that paid campaigns need to be a priority for all marketers.
Simply paying for advertisements isn't the answer, of course. Mobile usage statistics are also important, as we will show you facts that will blow your mind.
19. Facebook reports that 94% of the advertising revenue comes from mobile devices.
(Facebook)
Is there anything else left to say? Only 6% of the advertising revenue comes from desktop devices.
This is an immensely important detail, as you will need to accommodate your marketing efforts predominantly towards mobile devices. In other words, you'll have to create and adjust images and videos for mobile devices.
20. The average
Facebook video engagement rate
is 6.13%.
(Hootsuite)
Take this into consideration, as the average engagement rate on a Facebook post is 3.6%.
Videos are more engaging, and this should motivate you to integrate them into your marketing strategy.
21. 60% of all Americans watch videos on Facebook.
(eMarketer)
Almost two-thirds of American citizens will watch a video on Facebook, with only YouTube having a higher percentage.
And what's more interesting is the following stat:
22. 85% of all Facebook videos are being watched without sound.
(DigiDay)
This is one of those stats that are of utmost significance when creating videos for Facebook campaigns.
Seeing as people watch the videos on mute, you might consider adding some call-to-actions (CTAs) at the beginning of your videos. Stuff like "watch this with sound on" or "hear what they have to say" can make all the difference in the world when it comes to conversion rates.
Wrap Up
Facebook will continue to be a top priority for marketers in 2020. The sheer volume of people connected to the platform is not something to be overlooked.
We have a list of the most important Facebook advertising statistics and ways to maximize your marketing efforts.
What's more: 
You can now see the preference for people to use mobile phones in their everyday lives. This makes the job of a marketer much easier, as you can now focus on the presentation of your graphics on smaller devices.
We hope you will find this article useful, and remember, Facebook remains the most popular social media platform – so make sure to use it to the best of your ability!