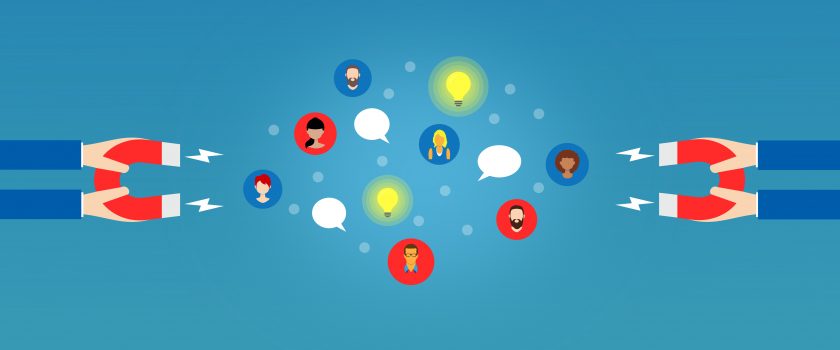 21 Stunning Lead Generation Statistics
Lead generation is the first step of a company's marketing effort to attract and successfully convert a potential customer. 
Simply put: 
Leads are potential customers who show interest in your company's products or services.
But how do you attract the right audience and generate leads? By employing a proper marketing strategy in order to generate leads.
I know: 
It's not as easy as it sounds. That's why lead generation statistics are important. They'll give you a good idea of what other marketers are doing and which processes they follow to successfully convert a lead into a sale.
Having said that: 
85% of marketers single out lead generation as the most important asset.
This is huge!
So, in today's article, we'll introduce you to the most important facts and stats to help you reach your target goals and convert potential leads.
We'll start with some of the latest fascinating stats and then proceed with more general statistics as well as trends, especially in the B2B industry.
Okay, let's fire away!
Incredible Lead Generation Stats (Editor's Picks)
61% of all marketers

state lead generation is the most challenging aspect of their work.

Lead generation implementation can

increase sales rates by up to 9.3%.
71% of marketers

say their allocated budget for lead generation purposes increased in 2019.

53% of marketers

say more than half of their budget is allocated to lead generation purposes.

Lead generation ad spend

for 2019 amounts to nearly

2.6 billion dollars.

B2B companies with a full-grown

lead generation

process see

133% increase in revenue.

For

B2B companies

, the top priorities for marketing are lead generation, lead nurturing, and sales.

79% of all B2B marketers

say email is the most effective lead generation channel.
General Lead Generation Statistics
The important thing to know about generating leads is that it's only the first step towards achieving your goals.
Now:
Any number of marketers can use even the lightest techniques to acquire genuine leads. But how you separate the quality leads from the bad ones is what makes you stand out from the crowd.
Lead nurturing comes into play here. And luckily for you, we've got the latest lead nurturing stats ready for you! But make sure you've finished reading the current one first!
With that in mind, take a look at the following statistics. They will help you to get a better understanding of the importance of lead generation and nurturing in order to acquire quality leads:
1. 90% of searchers aren't sure about the brand they would like to buy from.
(Search Engine Watch)
About nine out of ten individuals who are searching for a brand's products have not yet made up their minds about purchasing.
This means that marketers have a really hard task from the very beginning. The vast majority of customers who land on a website need to be convinced further before they make up their minds about buying.
Without a doubt, this is one of the most astonishing stats you're likely to come across.
2. Only 4% of all visitors to your company's website are ready to buy.
(Marketo)
This stat shows that a startlingly low number of visitors are ready to convert. But this can help you big time.
But how, you may wonder? Well,  now you know what should be the first step in your strategy – designing a relevant and quality landing page.
No first visit will convert into a sale. There are numerous sales statistics that prove this.
You need to make sure visitors are finding what they are looking for. And for that to happen, you need a quality landing page in order to hook people in and qualify them as leads.
Your next step is, of course, to nurture those leads. After all, the point of generating leads is to convert them into customers, right? To do that, you need to nurture them.
3. 68% of all B2B companies use specifically designed landing pages for lead nurturing and future conversion.
(Marketo)
More than two-thirds of business-to-business companies are making use of their landing pages to nurture their leads.
And with good reason, too: 
A landing page can give you an opportunity to make an outstanding impression.
But check out the next stat:
4. Contrastingly, only 29% of all businesses actually invest in nurturing their already existing customer base.
(Demand Gen)
In contrast to the previous stat, only a third of all businesses will invest time and money into nurturing their customers.
This might be worrying if your company's customer retention stats show negative numbers.
Let's face it:
No one likes to lose their customers. This is the exact reason why lead nurturing is so important.
5. 53% of all business admit it takes a long time for their leads to convert.
(Ascend2)
Your job as a marketer isn't just to employ and run a nurturing program. It's also crucial to properly manage it and make it effective.
Generally, most businesses struggle to convert their leads in a shorter period.
These lead nurturing stats indicate quite the contrary, though. Businesses state that their leads are taking too long to convert. This could be due to failing to identify quality leads or not having an effective lead nurturing program.
Which leads us to the next stat:
6. 50% of all marketers make leads-to-customer conversion their top priority.
(Ascend2)
The biggest challenge among marketers is the conversion of leads into customers. Even though some of these lead generation statistics show us where marketers are struggling, it seems like half of them have a different priority.
Generating an adequate amount of leads seems like the easiest of things to do for marketers. Nurturing their leads is also among the least of many marketers' worries, while improving the quality of leads is the second most important and challenging objective.
Now, let's take a look at the challenges B2B marketers face when trying to generate leads:
Business to Business Lead Generation Challenges
As businesses tend to increase their budget for lead generation purposes, so does the need for a quality technique.
Here's the deal:
The best way to generate leads is by creating a blog on your company's website.
A blog is one of those tougher challenges most marketers face since it requires a lot more work than other strategies. Not only do you need to provide relevant and insightful information, but you have to take Search Engine Optimization into consideration as well.
Still, numerous content marketing statistics confirm these beliefs. Specialized landing pages, insightful and informative articles, and search engine optimization are key to running a successful blog.
Back to our B2B challenges marketers may face:
7. 43% of businesses in certain industries use white papers and webinars as lead generation.
(Informa Engage)
Industries such as Technology, Financial and Infrastructure mostly use white papers and webinars for their lead generation strategy.
Judging by this lead generation industry report (sources list #13), there is a tendency for direct communication as a way to generate leads.
Quite an intriguing fact, honestly, since most companies focus on increasing brand awareness. But with the ever-evolving nature of digital marketing, companies can't stay immune to this.
Now, companies are diverting their strategy towards blogs as a means of generating leads and securing sales.
8. 72% of marketers agree that content marketing increases their number of leads.
(Content Marketing Institute)
Yet more proof of the influence a blog has on a website. More than two-thirds of marketers who are in charge of B2B marketing lead generation believe that content marketing does actually generate more leads.
This is a vital metric for marketers to keep track of.
Missing opportunities like this is never an option. So take notes and make sure to include content marketing within your strategy.
Speaking of which: 
Marketers should also include LinkedIn in their marketing strategy. This powerful and professional network can be a great source of incoming leads.
Check out the next stat to find out why:
9. 65% of B2B companies say
lead generation from LinkedIn
is successful.
(LinkedIn)
LinkedIn is a powerful resource any business should make use of. It's a professional environment and the fact that two-thirds of B2B companies report successful lead generation, makes this network a must-have asset in your marketing strategy.
This brings us to the next stat:
10. 80% of all generated leads via Social Media come from LinkedIn.
(Forbes)
Without a doubt, LinkedIn is the top network for generating B2B leads.
An astonishing eight out of ten leads that marketers generate via Social Media come from the platform.
11. 61% of marketers believe a lack of resources is a barrier to B2B lead generation.
(Bright Talk)
Not every lead generation strategy is effective or easy to implement. As we can see, one of the challenges many marketers face is the lack of resources, such as funding or time.
These B2B statistics indicate that many marketers face an uphill battle when it comes to generating quality leads.
12. 24% of marketers are unable to properly identify how successful their lead generation programs are.
(Bright Talk)
This is a really surprising stat. About a quarter of all marketers don't actually know if their lead generation programs are working or not.
For many businesses, this might be a huge problem. A marketer needs to know the conversion rates of his own marketing efforts. And lead generation programs are a huge indicator to this.
Failing to properly analyze the strategy is the same as failing to convert any leads.
13. Companies that blog receive on average 67% more leads per month.
(Demand Metric)
Content marketing keeps the reader's attention, improves brand loyalty, generates leads, and increases the company's sales rate.
What's more:
Companies that blog report an increasing number of leads per month.
14. According to
lead generation statistics
for
2019
, the three largest sources of B2B leads are email, search, and live events.
(Chief Marketer)
Finding potential leads and turning them into paying customers remains the top challenge for B2B marketers.
Many companies find it difficult to determine where their leads are coming from. At the same time, marketers are noticing a pattern. They say the top three channels for generating leads are email, search, and live events.
Now that you know the important facts and stats about B2B lead generation, let's see how B2C companies fare:
B2C Lead Generation Statistics
B2C or Business-To-Customer refers to a direct marketing effort by the companies towards their potential and/or existing customers.
We've covered some important metrics to discover just how effective content marketing is for lead generation. Let's delve a little more and take a look at the following lead generation stats:
15. Personalized content is 48% more effective than non-personalized.
(Business2Community)
Instead of just sending out hundreds upon hundreds of generic emails, why not make them a bit more personal?
Personalized emails show twice as much effectiveness compared to non-personalized ones.
This is why marketers find blogging to be the most difficult technique and one they would like to tackle.
Many business professionals acknowledge what these lead management strategies show – a lack of an effective marketing program can make lead generation extremely difficult.
The effect a personalized email has on an individual can be the key to a potential lead turning into a sale.
16. 45% of all web leads are generated on a mobile device.
(Ricochet)
Just less than half of all traffic that websites register on a daily basis comes from users browsing on their smartphones.
You may be wondering: 
"How can this help me?"
Well, for starters, optimizing your content for mobile devices can help you increase your inbound leads.
We all constantly browse websites, blogs, and social media on our phones.
So, to get found and have people visit your website, you need to adjust your content to be easily viewable on a smaller device.
Simple!
The same thing applies to email marketing. As we have discussed above, personalizing emails is just one step. Having your emails optimized for smaller devices makes the person read it with ease and then take the desired action.
17. Businesses that focus their marketing efforts on generating
outbound leads
experience a 61% higher cost per lead compared to inbound marketing.
(Hubspot)
Outbound marketing is more of a traditional type of marketing. This means that direct mail plays a huge role in determining how many leads you will generate.
With that in mind: 
If you want to focus on this technique, you need to prepare yourself for the challenges that lie ahead. Also, you may want to increase your budget, as this stat shows that outbound marketing is considerably more costly.
18. 68% of all B2C marketers are using paid methods to distribute their content.
(Point Visible)
While this tactic may prove successful, it will increase the lead generation cost of your company.
If you are on a tight budget, you should avoid this method. But if your budget allows you more flexibility, well, why not pay and target the right audience for your business?
Which brings us to the following issue:
19. The average number of forms used for lead generation on landing pages is 11, with conversion rates standing at 17%.
(Formstack)
For a marketer, conversion rates are all that matters. You need to make sure you optimize your conversion rates (CRO), as this stat shows a strikingly low percentage of success.
And this is emphasized in the next stat:
20. Websites that reduce the number of forms from 11 down to only 4 see their conversions increase by up to 120%.
(Unbounce)
People's attention spans aren't exactly booming, and they want to produce less effort from their end. So, having as many as 11 forms on a single landing page can be disheartening to the potential customer.
Companies report an increase in conversions with fewer forms. The highest percentage stands at 25% for landing pages with only 3 forms.
21. 80% of marketers who use
lead management automation
software generate more leads.
(Slide Share)
Yet another important stat you should make use of. Namely, eight in ten marketers are seeing an increase in the number of leads due to using automation software.
If you are not one of these individuals, you should definitely jump on board. This report indicates that the conversion rate of these leads stands at 77%.
Staggering percentage, to say the least.
Key Takeaways
Lead generation is not only the first step – it's the most fundamental one for any business's marketing efforts.
We've summed up some general lead generation statistics and ways you can maximize your marketing efforts.
The thing is:
You, as a marketer, have the task to bring in quality leads and convert those leads into sales. For this reason, marketers need to be fully aware of the latest trends and techniques in order to create a flourishing marketing strategy.
We hope you will find this article useful and use them to up your marketing game in 2020.
All you have to do is jump on board and let your creativity take over!