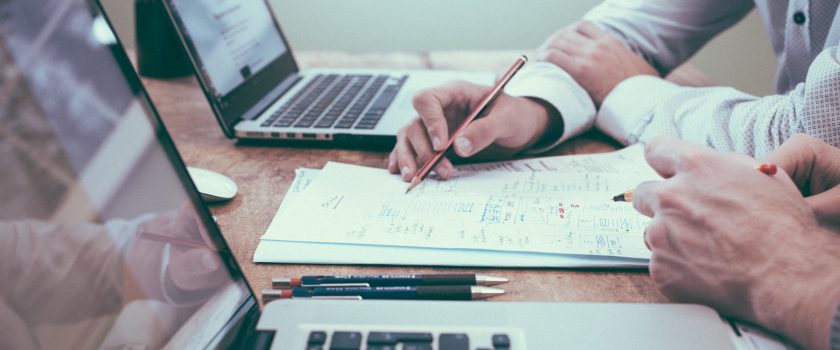 19 Fascinating B2B Marketing Stats [2023 Edition]
Business-to-business marketing deals involve products and services that one business is offering to another one. And every big company has an employee who is in charge of buying such products or services, which are needed for the company to operate smoothly and cost-effectively.
Now:
While looking at the latest B2B marketing stats, we'll be able to see how best to run an effective B2B marketing strategy. This isn't easy since the competition is fierce. 
That being said, detailed insights in numbers can be extremely helpful.
Remarkable B2B Marketing Statistics (Editor's Picks)
69% of successful B2B marketers have a documented content marketing strategy.

86% of B2B organizations are using analytic tools for ideas.

68% of B2B customers prefer to research independently online.

81% of consumers expect a brand to know how and when to approach them.

69% of B2B companies will prioritize their investment in content creating, measurement, and analytics.

81% of businesses use Facebook for their video marketing.
B2B Marketing Statistics 2019
B2B marketing went through a revolution a couple of years ago, and the possibility to easily access your customers via digital marketing channels made that possible. The technology changed the whole industry, starting with emails and currently ending with social media. 
We say currently because B2B marketing is still changing and evolving and will probably continue to do so in the future. But right now, social media is taking the center spot of the stage for almost everything in life, B2B social media statistics for 2019 reveal. 
1. 59% of Americans think customer service through social media helped them to better utilize B2B marketing.
Source: LyfeMarketing
According to B2B social media marketing stats, close to six in ten Americans believe customer service through social media helped them to find all answers considering B2B marketing, and learn how to utilize it the right way.
97% of all marketers are using social media to reach their future customers. This means they've recognized the importance and the possibilities social media has to offer. 
2. There is a 2x bigger chance to reach a person aged 55 and 64 with branded content than someone younger than 28.
Source: HubSpot 
This might be one of the most important B2B marketing facts.
And in order to maximize the advantages of social media in B2B marketing, brands are searching for influencers, people with a huge number of dedicated followers on social media. The right influencer can boost your engagement and brand profile across different social media platforms. In turn, it will substantially help you reach a very wide audience of potential customers. 
3. Companies are earning $6.50 for every dollar invested in influencer marketing.
Source: Tomoson
The power of influencers reaching a greater audience and making a bigger profit for companies is best shown through B2B influencer marketing statistics. B2B influencer marketing is delivering 11 times bigger return of investment (ROI) than other forms of digital marketing, generating $6.50 for every dollar invested in influencer marketing. 13% of companies are making $20 or more for the dollar invested. 
4. 94% of businesses think that influencer marketing is an effective approach.
Source: Business2community
It is safe to say that influencer marketing has become mainstream since the overwhelming majority of businesses that used this strategy reported it was an effective approach. Additionally, 55% of marketers believe they are getting more and better customers thanks to influencer marketing.
Instagram B2B statistics
5. 75.3% of American businesses will use Instagram in 2020.
Source: Omnicore
Over 500 million people are using Instagram every day. B2B marketing stats for 2019 show the average user spends around 53 minutes on the app daily, and 71% of them are younger than 35 years. In 2020, 75.3% of American businesses will use Instagram. The potential is so great that already around 70% of all hashtags on Instagram are branded. 
6. According to
B2B marketing statistics,
marketers posted 1,347 Instagram Stories every month.
Source: Mediakix
The corresponding figure for Snapchat Stories is only 614 Snapchat stories. With over 400 million Instagram users creating Instagram Stories every day, B2B marketers sense a huge opportunity.
B2B Facebook Marketing Statistics
Although Instagram is rapidly carving out its important and stable position in B2B marketing, Facebook has been there much longer. So, it already has a leading position when it comes to this type of marketing. 
7. 87.1% of US marketers use Facebook marketing in 2020.
Source: Hootsuite
B2B digital marketing stats show there are 90 million small businesses on Facebook. So, it should not come as a surprise that 87.1% of US marketers use Facebook marketing in 2020. There is not a huge increase from 2019 when the figure stood at 86.8%, but the saturation is so high that it doesn't leave too much room for growth. 
8. The number of Facebook ad impressions increased by 33% in 2019.
Source: Hootsuite
An average Facebook user clicks on 11 ads per month. That's not a big number, but it shows that the interest in Facebook ads still exists. Women click on more ads than men. Last year, the number of ad impressions increased by one-third, and the ad prices dropped by 4%. These numbers are great news for B2B marketers looking to reach new customers. 
B2B Email Marketing Statistics
It is interesting that, while social media attracts a lot of users, emailing can still be used as a great B2B marketing tool. Email is among people for a long time, and that's probably the reason why marketers still rely on this option.
9. 81% of small and medium US businesses use email marketing for customer acquisition.
Source: Smaily
Small and medium businesses are the biggest users of emails as their primary customer acquisition channel. The most important B2B email marketing facts are that 81% of small and medium US-based businesses are using this strategy, and 80% of them are using emails for customer retention. This should not come as a surprise since the return of investment in email marketing is amazing. You can expect an average return of $42 for every dollar you spend on email marketing. 
B2B Content Marketing Statistics
10. 69% of successful B2B marketers have a documented content marketing strategy.
Source: SmartInsights
Content marketing is another viable option for successful B2B marketing. According to B2B content marketing stats, last year more than two-thirds of successful B2B marketers had a documented content marketing strategy, while only 16% of the less successful marketers have one. 
11. 62% of companies are outsourcing their content marketing.
Source: SMEJoinup, i-admin
Content marketing demands a lot of effort and keeping the info up to date, so it should not surprise us that this activity is outsourced most of the time. 62% of companies are outsourcing their content marketing due to lack of time or expertise. Content creation strategy is not that regular since 45% of companies report that they are creating content ad hoc.
Moreover, according to a recent survey, all organizations outsource a part of their payroll functions and 52% of the surveyed companies outsource payroll taxes processing.
12. 86% of B2B organizations are using analytic tools for ideas.
Source: BlueCorona
B2B content marketing statistics for 2019 reveal that 35% of marketers use keyword analysis as their main source for getting ideas about what people are actually searching for online and creating content accordingly. Furthermore, 86% of B2B organizations use analytic tools. As for the form of content, video is the most useful according to 53% of B2B tech buyers. 
13. 69% of B2B companies will prioritize their investment in content creating, measurement, and analytics.
Source: EliseDopson
According to the latest B2B content marketing statistics, more than two-thirds of B2B companies prioritize their investment in content. There's a lot of space to operate, so it is expected that the content marketing industry will be worth a mind-blowing $412 billion in 2021.
One thing that B2B social media, email, and content marketing all have in common is the possibility to use video as a medium to deliver the desired message. 
Check this out:
14. The use of video as a marketing strategy increased by 63% over last year.
Source: Biteable
The biggest reason for the increase is the reach. According to the B2B video marketing statistics, 96% of consumers who are 18-34 years old watch several videos throughout the week. As for Millennials, 75% of them watch at least one video a day. That's the reason why 81% of businesses are utilizing video as a viable B2B marketing strategy, with an increase of 63% since last year.
15. Users spend 88% more time on sites that feature videos.
Source: Forbes
This is a trend we can expect to continue in the future. By 2022, 82% of consumer internet traffic will come from videos, which is not that much of a surprise, since users are spending so much more time on sites that have videos. 
16. 81% of businesses use Facebook for their video marketing.
Source: Biteable
According to B2B video marketing stats, 95% of users watch an explainer video to learn more about a product. Additionally, 97% of marketers report that video helps their customers to better understand their services and products. This will, of course, help immensely in increasing sales. Facebook is a leading platform here, as well, since users watch 8 billion videos daily on the platform. That's why it's very sensible that roughly eight out of ten businesses prefer to use Facebook for their video marketing. 
17. 81% of consumers expect a brand to know how and when to approach them.
Source: Marketingdive
Personalization in B2B marketing can be crucial because more than 78% of consumers engage only in offers that have been personalized according to their previous contact with the brand. B2B marketing personalization facts state that 81% of consumers expect a brand to know when to approach them and when not to. This is still a challenge for businesses due to the lack of precise information. 83% of B2B marketers state that personalization of content is the biggest challenge. 
But the reward is worth it: 
Smart personalization can boost profits by up to 15%. Mobile app development can definitely help with that. 
18. 75% of marketers use at least one automation tool.
Source: Funneloverload
Using marketing automation tools is a popular option, and three-quarters of marketers do so. B2B marketing automation facts state that 51% of companies are currently using marketing automation, which is expected to rise to 58%. Targeting of messages is the most important advantage of marketing automation for 70% of marketers. 
Moreover, 63% of companies expect to see the benefits of marketing automation within six months of implementation, and 64% of ecommerce marketers say marketing automation brings more sales. 
19. 68% of B2B customers prefer to research independently online.
Source: Forrester
Another option for B2B marketing is inbound marketing, a strategy focused on attracting customers via the company created internet content. Statistics about B2B inbound marketing show that these strategies prove to be very efficient, achieving higher ROI than any other outbound technique, regardless of other factors.  
Here's the deal:
Just 29% of people want to talk to an actual salesperson to learn more about the product. As for marketers, 18% of them agree that outbound practices provide the best leads for sales. 
The good news is:
B2B marketing growth is possible through making your content shareable, repurposing your content, trying to create and enlarge your own community. Overall, great content is the key to reaching and retaining customers. 
Additional B2B growth marketing tactics include working on your LinkedIn presence, as it is rapidly becoming a very important B2B marketing platform.
FAQ
Q: How much do B2B companies spend on marketing?
B2B companies with a primary focus on products spend around 10.4% of operating costs on marketing. B2B companies that are focused on service spend around 12.6% of the total operating costs. When talking in terms of total revenue, B2B product companies spend around 6.4% of their total revenue, while B2B service companies spend around 6.8%. Companies dealing with services and consulting spend around 30% of their marketing budget, while companies dealing with education spend just 2%.
Q: What does B2B mean?
A: B2B means business to business, and it represents a type of transaction which occurs between businesses. Most often this includes manufacturer and wholesaler, or a wholesaler and a retailer. B2B refers to businesses concluded between companies, not between a company and an individual customer (B2C) or a company and the government (B2G).
Q: What is the B2B strategy?
A: In order to get the attention of your future customers, you will have to have a B2B strategy. Building a viable B2B strategy will deliver better results, but it requires planning, management, and execution. There are several strategies you can use to carve your place in a marketplace, like defining a market, identifying B2B marketing tactics and channels, running campaigns, checking out the results, and implementing necessary changes in order to achieve the best result possible. 
Q: W
hat is B2B email marketing statistics?
A: Email is still the most influential source of information for B2B marketing out of all nonpersonal recommendations. According to 59% of B2B marketers, email is the most efficient way for revenue generation. Even consumers using emails in order to purchase a product spend 138% more than those who did not receive any email offers. Email still offers the best ROI, where for every dollar spent you will get back $44. And in the UK, for every pound spent you will get back £38 pounds.
Conclusion
In 2020, B2B marketing is a state of great flux According to B2B marketing stats, one of the most important factors is a flawless reputation and a personal touch. There is no place for pushing, especially if you want to get new customers. 
The thing is:
Most often, your potential customers are searching for information about products or services by themselves. So, your company name should be known, and information about your business should be at their disposal. 
Bottom line:
Social media is taking this type of marketing by storm, and it will be even more important in the future. But for now, content, videos, and good strategies are leading the way.