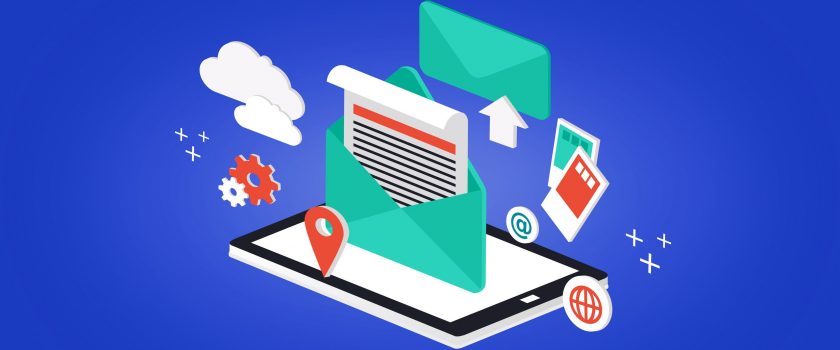 42 Interesting Email Marketing Statistics
Email statistics are no doubt fascinating as they can help you understand how emails shape the digital world, improve the lives of everyone, and drive businesses towards success. Sounds awesome, right? Well, that's why we couldn't be more excited to show you eye-opening and valuable details you can use to ensure a steady stream of customers and jobs today.
But before we dive deep into some useful email marketing statistics, let's have a quick refresh of why email marketing is such a big deal. Now, almost everyone has an email account (we bet you have one too). That makes it easier for businesses to communicate with their target audience regarding new and current offerings. Email marketing is also pretty easy to do, fairly cheap, and it brings immediate results.
Don't believe all that? Then let these email marketing stats do the talking.
Email Marketing Facts and Stats (Editor's Choice)
Welcome emails are your secret conversion weapon with an 82.2% open rate. 

Emails have the highest ROI for marketers, offering a return of $42 for every dollar spent.  

In October 2019, Apple's iPhone emerged as the top email client. 

61% of consumers prefer email as a means of communication with brands.
Email Usage Stats 2019
1. The number of email users worldwide will reach almost 3 billion this year 
Even though there are plenty of new communication apps on the market today, email usage continues to grow at a healthy pace. However, it should be noted that this growth comes from the prevalent use of email as a "notifier." It means that emails are mainly used to send notifications to consumers or clients but no so much as a simple day-to-day communication tool.   
2. Around 294 billion emails worldwide are sent and received per day
According to the latest email stats, in 2019, the estimated number of daily emails sent and received is approximately 294 billion. This is expected to grow to 347 billion emails per day by 2022. Namely, an average email recipient receives around 121 emails per day. 
3. In the US alone, 90.9% of Internet users are email users   
Email user statistics show that nine out of ten US Internet users would send an email, making it one of the most common activities done on desktops and mobile. In addition, receiving emails is also the preferred way for many customers when communicating with organizations.  
4. Americans spend five hours a day on checking emails 
Americans usually check their emails during and after working hours. While at work, they spend more than three hours checking emails and the remaining hours are consumed reading personal emails after work. Hence, email use statistics just go to show the flexibility of emails as a tool for communication, marketing, and important correspondence.
5. Women have longer interaction with emails than men 
In a UK digital marketing study, it seems that checking emails is an activity that prevails in women. Every month, women check emails seven minutes longer than the industry average. 
6. In October 2019, Apple's iPhone emerged as the top email client  
After tracking more than 927 million emails, the latest email statistics place Apple's iPhone as the top dog when it comes to email as it is responsible for around 32% of all email opens. Second and third on the list are Gmail and Outlook, garnering 27% and 10% of all email opens, respectively.  
7. From 2018 to 2023, email usage is expected to grow by 2–3% every year  
Email marketing is far from being dead, and this is supported by the rampant growth of email usage. With a 2–3% increase in the use of emails per year, we will reach around 4.4 billion users by 2023, according to email marketing statistics.
8. Email accounts will amount to 5.6 billion by the end of 2019 
Businesses that use email marketing will likely reach more of their target audience as the number of email accounts is forecasted to reach 5.6 billion before the year 2019 ends.  
9. The average email length is 434.48 words
In a study of 1,000 emails, email statistics have shown that the average email length is no more than 500 words with around 3.3 minutes of reading time. About 50% of these emails contained 300 words or below, amounting to 2.3 minutes of reading time. 
10. 82% of experts use 60 characters or less for their email subject line 
This shows that having a short but powerful email subject line is ideal. The 60 character count, or less, makes perfect sense because popular email clients like Yahoo! and Gmail cut off the subject line when it reaches more than 60 characters.
Email Marketing Stats For B2B and B2C Transactions
11. Email marketing is the number one marketing tactic of US B2B marketers  
A study conducted in September 2019 revealed that email marketing is the most used marketing tactic of B2B marketers. Other notable tactics today include social media and social media advertising, blogging and content marketing, SEO, as well as trade shows and events.  
12. The best possible time to send email campaigns is around 10 AM or 1 PM  
Timing can help encourage your audience to take action, be it to get those promos or to purchase that new service you offer. Email marketing research conducted in 2019 suggests that the best time to send emails is around 10 AM due to the fact that, at this time, people have already arrived at work and are checking their emails. Another great time is around 1 PM as some users tend to catch up on emails after lunch. Nevertheless, every user is different. This is why further study of their behavior and their work patterns is needed to get a better grip on when to approach them through emails and how.
13. 16% of emails are deleted without being read
Not everything is good news though. Email statistics show that emails that don't serve their purpose can backfire on a marketing campaign. Interestingly, emails that are deleted without being read are often related to pets, sporting goods, office supplies, flowers and gifts, and home improvements.
14. Emails with emoji on the subject line have a 25.02% open rate
According to some email marketing facts, adding emoji to your email subject line can increase engagement and prevent your emails from going to the trash. Although emoji usage doesn't have that many fans, it has a higher open rate of 25.02% compared to plain subject lines with a 22.03% open rate. Only 3.94% of emails use emoji and many are still convinced that they may not be fit for a highly professional audience.
15. Email is one of the top channels to distribute content 
B2B email marketing statistics reveal that there's an average of six channels used by businesses to distribute content. Email is the most popular one at 93% and is followed by LinkedIn (89%), Twitter (77%), Facebook (76%), and YouTube (59%).
16. By 2025, the global email marketing industry is expected to grow by 19.60%   
Along with the growing number of emails and users, the global email marketing scene seems to have a bright future as well. With a 1.60% forecasted rate of growth from 2017 to 2025, its overall market value will reach $22.16 billion by 2025. So if you're already in the email marketing business, be ready for some new technology from the big industry players such as Microsoft, IBM, and Epsilon.  
17. 61% of consumers prefer email as a means of communication with brands  
As of July 2019, statistics on email marketing revealed that the majority of US consumers still prefer to be contacted by brands via email, making it one of the leading forms of B2C communication today. Meanwhile, 25% of them would want to be contacted through social media instead.
18. 55% of marketers perceive that more than half of their emails are useful to subscribers 
From the marketers' perspective, all emails they send to their subscribers should provide them with some real value; otherwise, they wouldn't send them. However, this is not always the case. Only 14% of subscribers (one out of seven people) stated that more than half of their emails are actually of use to them, and these are email marketing facts.
19. Marketers should figure out how consumers respond to their emails 
Communication isn't a one-way activity. When marketers send out emails, ideally, customers would respond or take a certain action that would benefit the business or brand. A recent report shows that email marketers should focus their attention on answering key questions, including what consumers would do with the emails they receive? How would they respond? What actions would they likely take? Answering these will help increase the level of engagement between businesses and consumers alike.   
20. 47% of email recipients open emails based on the subject line
There are many factors that affect your email marketing success rate and one of them could be your subject line. Around 47% of email recipients decide whether or not to open their email based on the subject line and 69% report it as spam based on its subject line as well. Thus, businesses need to make sure that their good intentions are noted by customers by enticing them with engaging email subject lines.
21. Welcome emails are your secret conversion weapon with an 82.21% open rate  
Thinking whether or not to create and send out welcome emails to subscribers? Well, don't hesitate. A recent study shows that the average open rate of welcome emails is a staggering 82.21%. In addition, they have an average click-through rate of 27%. These key findings mean that eight out of ten people will open your welcome email and one out of four will click through to your website. 
22. Fewer consumers are asking where brands got their email addresses 
Compared to 2018, fewer consumers had issues in 2019 about the acquisition of their email address. Email marketing statistics clearly show that, currently, only 33% of customers question how brands got a hold of their email addresses. 
23. According to US teens, email is the third best way for retailers or brands to communicate when it comes to new offers
Even teenagers perceive that email is an effective way for brands and retailers to communicate with customers regarding promotions and new product offerings. While email is ranked third with 37%, Snapchat snatched second place with 49%, and Instagram ranked first with 73%.
Mobile Email Marketing Facts and Stats
24. Mobile is the most popular reading platform for emails 
Researchers noticed that even though mobile opens fluctuated a bit this year, they still remain one of the top reading environments. This is based on data stating that, currently, 42% of all emails are being opened on either tablets or smartphones. 
25. Apple's iPhone is still the leading client when it comes to emails being opened on small devices
Email statistics clearly show that Apple's iPhone accounted for some 28% of all emails that were opened during the first quarter of 2019. Surprisingly, Apple's iPad takes second place with 9.3% of all email opens, and the Android OS ranks third at only 2.3%. 
26. Email is more likely to stay with us for longer than cable television, Twitter, or even Facebook 
With numerous individuals sending and receiving emails every day, it makes sense that email is going to stick around for another 10 years compared to some other channels or apps. So much so, that we can almost group it with other interesting email marketing facts. Also, considering the staggering growth of mobile use and mobile email opens, businesses and consumers will be connected through email now more than ever. 
27. 33% of digital retailers use email to send personalized product recommendations to their subscribers 
Subscribers or consumers feel appreciated when they receive product recommendations from brands that suit their needs and preferences. This is why 33% of digital retailers now send personalized emails to enhance the customer experience; on mobile phones especially.
28. When shopping cart abandonment emails are sent within the hour, the conversion rate increases up to 6.33% 
Email marketing effectiveness stats say that it's possible to get a higher conversion rate by simply sending an email within an hour after the person abandons a shopping cart. One of the most common reasons why they do so is due to expensive shipping costs, as well as tedious registration processes where they need to fill out a form before they can finalize their purchase. 
29. Emails that are read over multiple devices are 65% more likely to record a click through to the website
Simply put, more clicks happen when emails are viewed on multiple devices. Emails that get read a second time have something to offer; in other words, they're either useful or helpful in some way. Now, to be able to achieve this kind of success, it's important to create stellar content and optimize it for both mobile and desktop email campaigns.  
30. B2B, IT, and wholesale companies need to strengthen their email campaigns 
Based on email campaign statistics, wholesale companies, IT, and B2B have the weakest email open rate on mobile. Real estate, radio, film, and TV, on the other hand, greatly benefit from effective email campaigns today.  
31. It takes three seconds for recipients to delete emails that are incorrectly displayed on mobile 
No matter how compelling your email content is, if it's poorly formatted, people are likely to delete it within three seconds. Even worse, 15% of users might decide to unsubscribe as well. Overall, this amounts to an 85% drop in potential mobile customers.  
Automated Emailing Statistics
32. 75% of marketers use at least one marketing automation tool 
Today, marketing automation is widely accepted as 75% of marketers use at least one type of automated marketing tool. When properly used in email marketing campaigns, automated tools allow you to create personalized customer experiences much faster and a lot easier.
33. Automated emails are the best type of email with a 44.05% open rate
Triggered and automated emails perform best when it comes to email open rates (44.05%), followed by autoresponder and RSS emails at 26.7%. Moreover, email newsletter statistics show that newsletters still work; even though they only have an open rate of just 20.48%. 
34. 25% of ecommerce marketers are planning on using software for email marketing automation 
Since automation can make everything quicker, easier, and more precise, 25% of ecommerce marketers are now looking to invest in software for email marketing automation. If we look at some email marketing stats, at the moment, almost 55% of marketers are using some form of automation (aka automated tools) for their email marketing campaigns. Hence, we can expect to see more of the latest technology within the email marketing scene in the near future.
35. Marketing automation, CRM, and emails are the most effective marketing technologies
According to marketing influencers (53% of them), CRM, marketing automation, and emails are some of the most popular methods for improving marketing campaigns. Marketing data, dashboards, and analytics can also be of great help as 43% of marketing influencers labeled them as second-best when it comes to the most effective technologies used for marketing purposes.  
Email Stats: Facts on Email Marketing ROI
36. Emails have the highest ROI for marketers, offering a return of $42 for every $1 spent 
Every year, email marketing ROI continues to mount, helping businesses acquire more sales and loyal customers. In general, it's possible to get $42 back for every $1 you spend on email marketing, which is one of the more well-known email marketing facts. 
37. Travel, tourism, and hospitality industries have the highest email marketing returns  
With an average ROI of 53:1, travel, tourism, and hospitality industries benefit the most from email marketing in terms of investment. Retail, ecommerce, media, publishing, sports, and entertainment also generate a good amount of sales with an average ROI of 45:1. 
38. The nonprofit industry has the highest email open rate at 20.39%  
The email open rate is an essential part of email marketing ROI statistics since it's an important email marketing KPI for measuring campaign success. The latest data says that the nonprofit sector has the highest email open rate with 20.39%, followed by agriculture, forestry, fishing, and hunting at 20.13%, and the government sector at 19.79%. 
39. Adding videos to emails can generate higher engagement rates 
Although not all email clients support video content, adding videos to your emails is still an excellent way to increase engagement levels with your audience; or so state the latest email marketing facts. According to them, emails with video content from Vimeo have an open rate of 39.67%, whereas emails with YouTube and Break.com videos have a 28.62% and 8.11% email open rate, respectively.  
40. The average email bounce rate is 1.06% while the average unsubscribe rate sits at only 0.17%
Email bounce and unsubscribe rates are also among the important metrics used for assessing email campaigns and their overall ROI. At the moment, email marketing statistics show that there's a very small percentage of bounced emails (1.06%), as well as people unsubscribing from email lists (0.17%).  
41. Subscriptions can boost landing page conversions  
One of the best ways to achieve landing page success is via the use of email subscriptions. With legal services having an average conversion rate of 10.98%, according to email marketing stats, it shows that this method enjoys some of the highest conversion rates on the market today. 
42. Using live content in email marketing campaigns can generate an ROI of 50:1 
There are various techniques to increase email marketing ROI but using live content really stands out from the crowd. Statistics reveal that those who use live content in emails have an ROI of almost 50:1. On the other hand, those who never use live content only generate an ROI of 39:1, which is a huge difference.
In Conclusion
Email marketing statistics can help businesses shape their current and future email campaigns. Although such campaigns may not always be successful, knowing the facts allows you to determine which areas could use some room for improvement and what trends to follow. 
Email marketing, as mentioned earlier, should be pretty easy; especially if marketers truly know their audience and the industry. From email open rates to the latest marketing technologies, all of these (and more) can contribute to the success of your marketing campaign. So keep track of email statistics and guide both yourself and your business towards success.
Sources: